We talk with dozens of brands interested in joining the NFTs space every month. 
Their managers are caught up in the hype. 
After all, headlines are showing collections raising millions of dollars, huh? Of course this will engage. 
But that's a trap. 90% of the brands joining the NFTs space right now don't have a clue about what they are really doing. It's just like me when I train Brazilian jiujitsu. 
At Inevitable, we have been analyzing some of the most relevant NFT Products and Projects in the last few months and we developed a framework with 3 elements that all of them have in common. 
It's called CSU Framework: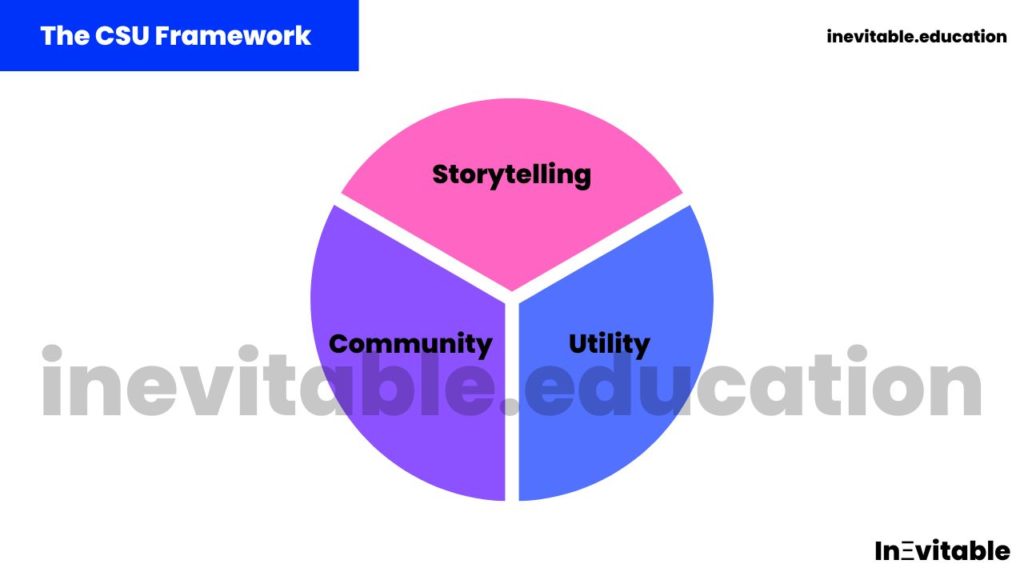 Storytelling refers to the message your product or project wants to convey. World of Women, for example, focused on this aspect since the beginning, building powerful storytelling around women's empowerment. 
Community refers to the mechanisms your NFT product or project will build to gather your audience together, build new experiences for them, or reach new audiences through NFTs. That was the focus of BAYC and Nike. BAYC started by gathering a community of NFT enthusiasts. Nike acquired RTFKT to bring on web3 talent and to reach new audiences. 
Utility refers to the final benefit that your product or project will bring to the audience. And this one is easier to talk about than to build. Our NFT certificates at Inevitable, for example, grant points to the users, and these points will unlock different belts in our Belts System. 
Does it make sense?
It's not necessary to start focusing on all the elements. Some of the examples we gave above, like World of Women and BAYC, today are masters at all elements, but they didn't start that way. 
In the 5th Lesson of The NFTs Playbook program, our co-founders Kaynã and Tiago present this framework in a more in-depth way, bringing more examples, cases, and good practices. 
The web3 space is moving fast, so companies that focus on only one aspect of the framework for a long time will not exist for too long. But focusing on building one of them extremely well at the beginning is a great way to generate results and build confidence. 
Alone, these elements are a great way to start building. Together, they can turn your "nft project" into a real, sustainable, and relevant brand. 
Until next time, 
Tiago Amaral, co-founder of Inevitable. 
Subscribe to our free newsletter to receive insights like this one in your inbox every single day.