It can be difficult to build a web3 strategy when we have so many buzzwords and variables out there. 
DeFi.
NFTs.
DAOs.
Crypto.
Tokens.
Wallets.
Avatars.
Gaming.
Airdrops.
Metaverse.
Blockchain.
Exchanges.
Collectibles. 
Digital Twins.
Marketplaces.
Digital Identity.
Decentralization.
To anyone entering this space, it can seem intimidating and overwhelming. If we are trying to build a web3 strategy that makes sense to our business or clients, we need to focus. We need to separate the signal from the noise. 
Web3 is the ultimate FOMO industry. Things move so fast that it's so easy to lose focus and try to seek the newest shiny object. 
Inevitable Instructor and Operations & Strategy Lead at Immutable, Nigel Lee, argues that we need a framework that can help us with 3 things:
1) Provides an overview of web3
2) Forecasts size of opportunities
3) Helps align on target market 
In 2021, for example, a lot of companies thought that they NEEDED to launch an NFT collection to embrace this space. Although some of these collections ended up being successful, the majority are now inactive. 
Nigel proposes that we think of web3 as a "multiverse".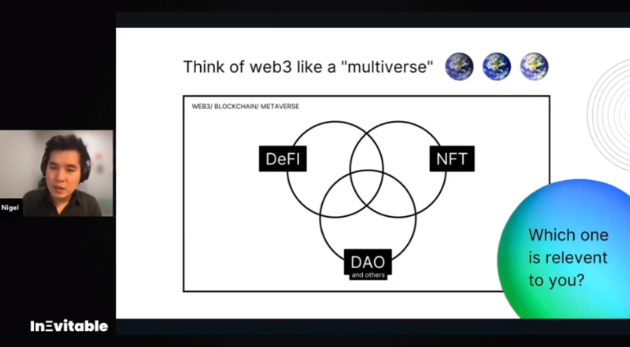 Although all those words can end up getting closer to each other as we advance in our strategies, it's a misconception that we need to start with all of them or with those that are on hype right now. 
This "multiverse" has 3 main areas – DeFi; NFTs; and DAOs – and each of these areas brings dozens and dozens and dozens of possibilities. Your mission as a strategist is to choose the one that will be more relevant to your business and your suite of products right now. After getting some results, you then can start to expand into other areas. 
Nigel is one of the best builders in the space today, leading the Operations & Strategy area of a web3 company valued at almost $ 3 billion. And he talks for almost 3hrs about how professionals can build web3 strategies and operations in the program Crafting Strategies and Operations for Web3. 
We can't go too thirsty and want to do everything at once.
LET'S CREATE A DAO!!! YEAH!
LET'S CREATE A MARKETPLACE. LET'S GET SOME FEES!
LET'S LAUNCH AN NFT COLLECTION! YEAAAAAH! ROYALTIES, ROYALTIES!
OH OH, LET'S LAUNCH OUR OWN TOKEN!!!!!
That is a trap.
This does not mean, however, that we should not move.
Right now, gigantic companies and brilliant minds are strategizing for web3.
Time is running. Wanting to rush things is a mistake. Standing still is even worse.
The game is on. Ticktock. Ticktock.
Until next time, 


Tiago Amaral, co-founder of Inevitable.
Subscribe to our free newsletter to receive insights like this one in your inbox every single day.